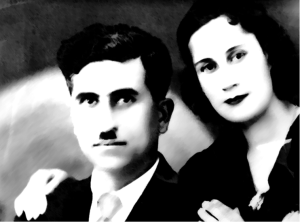 Fares & Lucia
The guesthouse is a tribute to Fares & Lucia who lived in the house. The guesthouse was the home in which they raised a family of eight children including Najwa, the current owner.
Fares & Lucia were a charming couple known for their loving kindness and hospitality in Byblos. Their home was always open for family, friends and neighbors.
Historical Architecture
The guesthouse has three levels; the ground floor has a lush green garden with Mediterranean flowers and trees. It holds a big ancient room with stone arches and the house Olive & Thyme kitchen. The garden is a peaceful retreat within the old souks of Byblos where you can enjoy the scents of Jasmine in summer and orange blossoms in winter.